Fiilex Releases the V70 Color Viewing Lamp (Gen 2)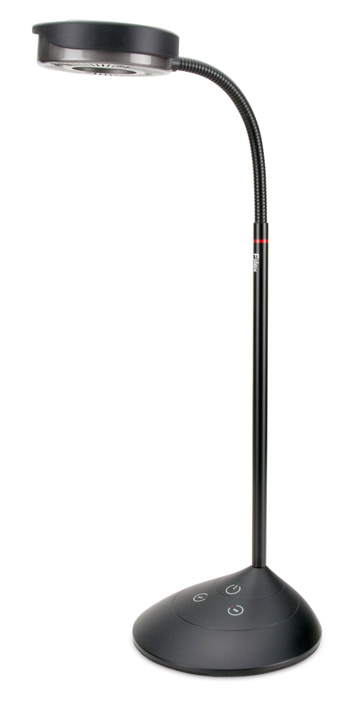 San Francisco, CA - Jan 27th, 2015 - Fiilex, a leader in LED lighting for the broadcast, film and photo industries, announces the release of their latest light, the V70 Color Viewing Lamp (Gen2). Specifically designed to transform desks into viewing stations, the V70 now includes D50 (5000K) and D65 (6500K) light, the industry standards for professional color viewing. Artwork, fabrics, paint swatches, and prints can be evaluated at your desk without the need for a bulky or costly light booth.
The new generation V70 features three responsive touch controls for dimming (100% to 25%), changing color temperature (3000K, 4000K, 5000K, 6500K), and quick power control. Manufactured to maintain Kelvin temperature within ± 100 degrees, the light has a high CRI (>90) at all temperatures and dimming levels. The V70 does not emit any harmful UV Light / Radiation, making it ideal to inspect valuable artwork, artifacts, or documents prone to fading.
"It has never been easier to achieve a color managed workflow in the digital space but seeing accurate color in the real world is difficult," says Brent Siebenaler, Brand Manager for Fiilex. "Large expensive viewing stations are not a practical solution for most working environments. Now with the new V70 you can judge colors and prints anywhere, and so can your clients."
V70 - Pricing and Availability.
The V70 Color Viewing Lamp (Gen2) includes a low profile dome diffuser, is compatible with other Fiilex accessories and is available now from dealers throughout the U.S., Canada, and Europe. The U.S. retail price is $195.00. For a complete list of dealers and accessories, please click here.
Separator
About Fiilex
Fiilex is a DiCon Lighting Brand. The Fiilex division designs and manufactures high quality LED lighting products for the Image Capture industry. Incorporating patented Dense Matrix LED technology, Fiilex produces portable and powerful specular sources that boast high Color Rendering Index (CRI) and dynamic color tuning capabilities. Since the initial announcement of the brand in January 2013, Fiilex has released 5 revolutionary LED lighting fixtures and a variety of innovative light modifiers. In a very short span, Fiilex has won major contracts in the North American broadcast market and established a wide dealer network around the world. Fiilex is one of the most sought after new lighting brands in the market.

For more information, please visit www.fiilex.com or call (510) 620-5155.

1689 Regatta Blvd,Richmond, CA 94804
(510) 620-5155 TEL
(510) 620-4102 FAX
www.Fiilex.com