Fiilex K311 Lighting Kit (2x-P360,1x-P200)
P/N: FLXK311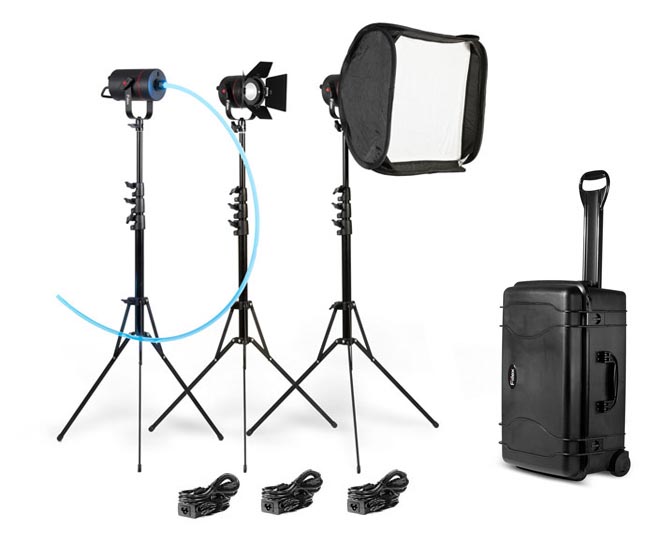 The K311 Lighting Kit gives you the flexibility to match any ambient color temperature and the endless creative possibilities of the P200 Flexjet. The kit contains everything you need to create amazing portraits, or truly unique lighting patterns. Complete in a rolling travel case, the kit comes with two P360 light heads and one P200 Light, power adapters, barndoors, light stands, softbox, speedring, and a 5 ft section of Fiber Glow (side emitting Fiber Optic).
Separator
Features »
900W of Total Equivalent Output
Color Temperature Range for P360 (3000-5600K)
Color Temperature Range for P200 (8 Color Settings: 3000K, 4300K, 5600K, Magenta, Yellow, Aqua, Cyan, Blue)
High CRI ≥92
Full Spectrum Light Quality - No Spikes
Dimming (100%-10%)
Flicker Free at any Frame Rate
Single Point Light Source
Solid State Technology - No Bulbs to Replace
Does not Emit UV Light/Radiation
Compatible with Broadcast Batteries
Lightweight, Compact, Easy for Travel
Cool to the Touch Housing
Travel Case Features »
Zippered Pouch for Storage of Accessories
Automatic Pressure Purge System
Plastic Non-Corrosive Locks
Modular Design for Added Versatility
Molded-In Padlock Holes
Wheels and Telescoping handle
Built to Mil-Spec Standards / Lifetime Guarantee
Separator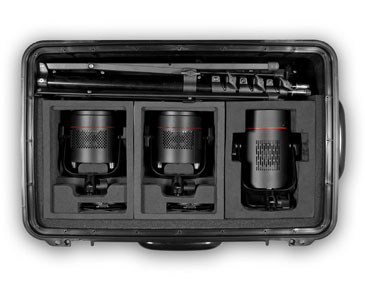 Specifications »
Case Size 23.96" x 16.00" x 10.10"
60.9cm x 40.6cm x 25.6cm
Kit Weight 38 lbs.
Light Stand Length (closed) 21"
Light Stand Max Height (extended)
7 ft / 2.13 Meters
Separator
SHOWCASE
P360 / P360EX + 3 Light Kits
The perfect balance of power and portability, the P360 is a 350W equivalent light that weighs just 1.6lbs. Color tunable between tungsten and daylight, this compact LED is strong enough to be a key or fill light and flexible enough to never lock you into a certain look. [01:57]Play
Unlimited Applications
The P360 is bright enough to light up a scene on its own but it also works beautifully with other lights. See how this efficient LED blends seamlessly with other lights to create striking images. [02:37]Play
Separator
Items Included »
(2) Barndoors
(3) AC/DC Power Adapters
(1) Softbox 15"x15"
(1) Speedring for Softbox
(3) Reverse Leg Light Stands
(1) Fiber Adapter - 14mm
(1) 5 ft of Fiber Glow (side emitting)
(1) Rolling Travel Case
Separator