Fiilex K411 Pro Plus Travel Kit (2x-P360 Pro Plus, 2x-P180E)
P/N: FLXK411PP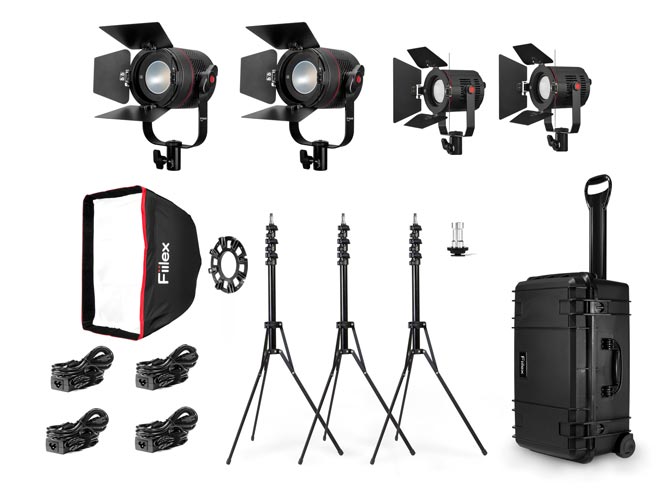 The K411 Pro Plus is a four-light LED travel kit that will bring unparalleled versatility to your portable lighting setup. Each kit contains two 90W P360 Pro Plus lights and two 40W P180s. The combined tungsten equivalent output of these fixtures is roughly 1200W. The included lights feature Fiilex's top-tier CRI and tunability options, as well as compatibility with the wide array of light-shaping accessories that Fiilex offers.

The kit comes packed into the durable K-Series travel case, which can easily roll its way into any location. Also included in the case are three light stands, one on-camera light mount, and a softbox.
Separator
Features »
Roughly 1300 Watts of Combined Equivalent Output
Lightweight, Compact & Easy for Travel
Designed to Comply with Most Airlines Carry-On Sizes
Molded-In Padlock Holes (Fits standard size Masterlocks®)
Zippered Pouch for Storage of Accessories
Automatic Pressure Purge System
Modular Design for Future Upgrades
Plastic Non-Corrosive Locks
Compatible with Broadcast Batteries via an Optional Adapter
Travel Case Features »
Zippered Pouch for Storage of Accessories
Automatic Pressure Purge System
Plastic Non-Corrosive Locks
Modular Design for Added Versatility
Molded-In Padlock Holes
Wheels and Telescoping Handle
Built to Mil-Spec Standards / Lifetime Guarantee
P180E Features »
Highly Portable Specular LED Light
250W Output Equivalent, only uses 40W
On & Off Camera Capability (ENG/Accent)
Dimming (10 -100%)
Tunable CCT (3000 - 5600K)
IP-24 Water Resistant (IP-25 w/ Rain Shield)
High CRI (>93) over all Color Temperatures
AC/DC Power Options (Battery Ready)
Flicker Free at any Frame Rate
Broadband Full Spectrum LED Source
Virtually Heat Free & Cool to the Touch
Long Lifespan, No Bulbs to Replace
Compatible with Broadcast Batteries
Simple to Use Magnetic Accessory Mount
P360 Pro Plus Features »
OLED Display for easy setup
400W Output Equivalent, only uses 90W
IP rating of 24 ( water resistant)
Dimming (0 -100%)
Tunable CCT (2800 - 6500K)
Hue Control ± .25 Magenta / Green
High CRI (>95)
Does not Emit UV Light/Radiation
Broadband Full Spectrum LED Source
Single Point Dense Matrix LED Light Source
Flicker Free
Lightweight, Compact and Easy for Travel
Virtually Heat Free and Cool to Touch
Compatible with Broadcast Batteries
AC/DC Voltage Options (works with batteries)
Designed in USA, Assembled in USA/Taiwan
Separator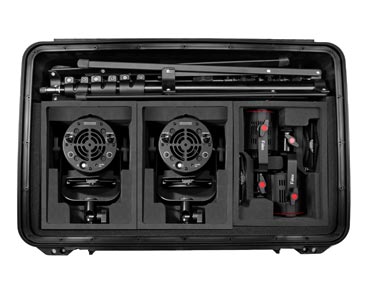 Specifications »
Case Size
23.96" x 16.00" x 10.10"
60.9cm x 40.6cm x 25.6cm
Case Weight
38.5 lbs.
Light Stand Length (closed)
21" inches
Light Stand Max Height (extended)
7' ft / 2.13 Meters
Case Warranty
Lifetime from Manufacturer - (Seahorse)
Separator
Items Included »
(2) P180E Light Head
(2) P360 Pro Plus Light Heads
(2) Size 1 Barndoors
(2) Size 2 Barndoors
(4) AC/DC Power Adapters
(1) Extra Small Softbox
(1) Speedring for Softbox
(3) Reverse Leg Light Stands
(1) Cold Shoe Mount w/ Stud
(1) Rolling Travel Case
Separator