Fiilex M381 Lighting Kit (3x-P180E)
P/N: FLXM381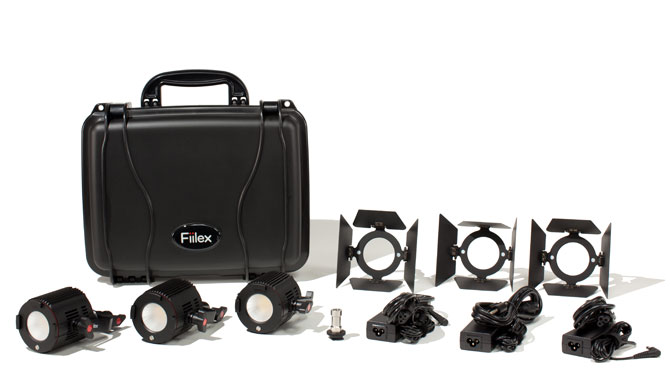 The M381 Light Kit has the flexibility you need to match any existing ambient light environment or to warm up a scene for added depth. Complete in a carrying travel case slightly larger than a Lunch Box. The kit comes with three P180E lights, power adapters, three barndoors, a cold shoe mount, and a hardshell travel case with custom cutouts for lights and accessories. Designed for use as an Ultra-Compact 3 Light Interview Kit or for a traditional 3 Point Light Setup. The P180E with Fiilex's patented color tuning technology allows you to quickly set up and film in a wide variety of environments.
Separator
Features »
600W of Total Equivalent Output
Color Temperature Range (Or Settings for P200)
High CRI >92
Full Spectrum Light Quality - No Spikes
Dimming (100%-10%)
Flicker Free at any Frame Rate
Single Point Light Source - Beam Angle Degree
Solid State Technology - No Bulbs to Replace
Does not Emit UV Light/Radiation
Can be used On / Off Camera
Compatible with Broadcast Batteries
AC/DC Power options ( P180E 12-24V DC)
IP-24 Water Resistant (IP-25 w/ Rain Shield)
Lightweight, Compact, Easy for Travel
Travel Case Features »
Pouch for Storage of Accessories
Cut Outs for Compatible Accessories
Automatic Pressure Purge System
Plastic Non-Corrosive Locks
Molded-In Padlock Holes
Below Airline Carry-On Sizes, Fits Under most Airline Seats
Separator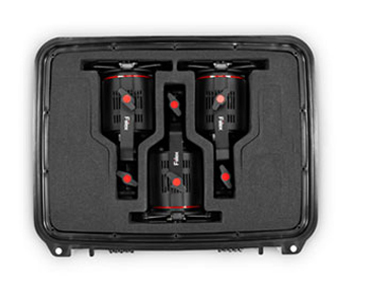 Specifications »
Case Size 14.9" x 12.1" x 6.9"
37.8cm x 30.8cm x 17.5cm
Case Weight Fully Loaded 15 lbs.
Separator
Items Included »
(3) P180E Light Heads
(3) Barndoors
(3) AC/DC Power Adapters
(1) Cold Shoe Mount w/ Stud
Separator