P180E
Meet the P180E, a revolutionary on/off camera light that can go to the extreme reaches of the world to chase the perfect story anywhere. Durable and powered by AC or broadcast battery, this compact ENG light withstands the elements to work as beautifully in freezing northern Canada as it does in the humid Amazon. The P180E features high CRI that brings color to life and the dimmable, color tunable light makes those indoor/outdoor transitions seamless, matching to daylight or tungsten sources with just the turn of a dial. Whether mounted on your camera or used in a traditional interview set-up, this brilliant LED works hard so you don't have to.
Separator
FEATURES
200W tungsten equivalent, 40W draw
3000-5600K Continuous Tuning
High CRI (≥92)
Runs on AC power 110v-240v or broadcast batteries 12v-28v (w/ D-Tap cables)
Rated IP-24 (IP-25 rating w/ Rain Shield)
Compact, Weighs 1.2lbs
Solid State Technology (no bulbs to break)
Separator
SPECTRAL DATA
CRI
Measurement
R1
R2
R3
R4
R5
R6
R7
R8
R9
3000K
98
96
90
97
96
94
97
97
87
5600K
96
97
96
94
95
95
97
93
74
CRI
Measurement
R10
R11
R12
R13
R14
R15
CRI
Ra
CRI
Extended
TLCI
Results
3000K
84
96
78
98
93
98
96
93
95
5600K
87
94
82
94
98
93
95
92
97
*Values in this table are typical.
**CRI Ra is the averaged result of R1 to R8, CRI Extended is the averaged value of R1 to R15.


Separator
SPECIFICATIONS
| | |
| --- | --- |
| Size (without Barndoor) | 2.9"(Diameter) X 3.8" (Length) |
| Weight (Include Yoke) | 1.2lbs / 544g |
| LED | Dense Matrix LED |
| Thermal Design | Passive Cooling System |
| CCT Range | 3000-5600K Continuous Tuning |
| Dimming | 100-20% |
| CRI | ≥92 |
| Power Consumption | 40W Max. |
| Input | 12 - 24V DC |
| AC Adaptor | 100 - 240V AC, 50-60Hz (In) / 19V DC, 65W Max. (Out) |
| Operating Temperature | -30° - 40° C / -22° - 104°F |
Separator
SHOWCASE
Separator
AWARDS AND REVIEWS
Separator
PHOTOMETRIC DATA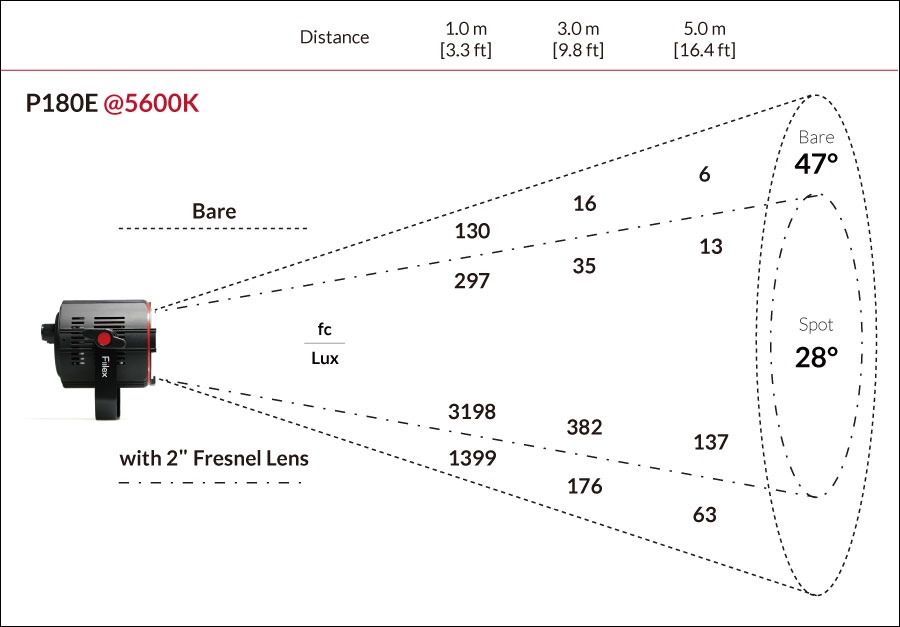 Separator
Items Included
(1x) P180E Light Head
(1x) Barndoor
(1x) AC/DC Power Adapter
(1x) Cold Shoe Mount
Separator
Compatible Accessories
Separator
Kits Containing P180E