Q1000
The new flagship of the Fiilex line, the Q1000 revolutionizes photo and video work by combining intense power, exceptional light quality, enhanced weather-resistance, and portable power options in one remarkable light. Maintaining the same color spectral versatility of the award-winning Q500, the Q1000 boasts a color tuning range of 2800-6500K. This stunning light is clean and accurate at all color temperatures, receiving outstanding TLCI (≥95) and CRI (≥93) ratings for its precise color rendition. The Q1000 also offers full dimming from 100% to 0% with no color spiking, as well as hue control of ±.25 Magenta/Green for deft hue correction on set. Weighing less than 13 lbs and featuring enhanced weather-resistance (IP-24), battery compatibility, and built-in DMX Control, the compact Q1000 can be easily rigged into any studio or used for on-location shoots. Highly modifiable, this remarkable light pairs with a wide range of Q-Series and P-Series accessories to give you the right look for you shoot. Get the most versatile and powerful LED of its class with the Q1000, and take creativity to the next level.
Separator
FEATURES
1500W-2000W tungsten equivalent, 340W draw
Full Dimming
IP-24 (Water-Resistant)
Extended Color Temperature Range (2800-6500K)
High CRI ≥93
Weighs Only 12.8 lbs
LCD Display & DMX-Ready
Flicker Free at any Frame Rate
Virtually Heat Free and Cool to Touch
Custom Travel Case Available
Separator
SPECTRAL DATA

CRI
Measurement
R1
R2
R3
R4
R5
R6
R7
R8
R9
3000K
97
99
92
96
99
98
98
96
92
5600K
96
99
98
93
95
97
95
91
73
6500K
95
98
97
91
94
97
93
89
66
CRI
Measurement
R10
R11
R12
R13
R14
R15
CRI
Ra
CRI
Extended
TLCI
Results
3000K
92
94
88
97
94
96
97
95
98
5600K
93
92
84
97
99
93
95
93
97
6500K
93
90
83
95
99
92
94
91
95
*Values in this table are typical.
**CRI Ra is the averaged result of R1 to R8, CRI Extended is the averaged value of R1 to R15.


Separator
SPECIFICATIONS
Size
L 12.8″ x W 12.75″ x H 15.7″ (with Yoke)
350mm X 325mm x 400mm with yoke
L 12.8″x W 9″ x H 6.75″ without
350mm X 230mm x 172mm without
Weight (Include Yoke)
12.8 lbs / 5.8kg
Ballast Weight
5.1 lbs / 2.3kg
IP Rating
IP- 24 (Water-Resistant)
LED
Dense Matrix LED
Thermal Design
Advanced Vapor Cooling System
Beam Angle
63° (Without Accessories)
32°-57° (With 5″ Fresnel Lens)
12°-26° (With 8″ Fresnel Lens)
CCT Range
2800-6500K Continuous Tuning
Hue Control
±.25 Magenta/Green
CRI
≥93
LED Lifetime
42,000 hrs
Power Consumption
340W Max AC / 300W Max DC / Comparable in Output to 1300W Tungsten
Input Voltage
AC Power: 100-240V AC, 50~60Hz, Max 340W
DC Power: 48-54V DC, Max 300W
Input Port
Detachable Power Con Cable
DMX Control
2 XLR ports and 2 RJ45 ports (512 Addresses)
Temperature Range
32-104ºF / 0-40º C (over Temperature Protection)
Mount Style
Baby Stud 5/8" Female (16mm) and
Junior Stud 1-1/8" Male (28mm)
Barndoor Mount Size
Size III
Separator
SHOWCASE
The Flagship of the Fiilex Line
Get the most versatile and powerful LED of its class with the Fiilex Q1000. With an intense 1500W output, color tunability (2800-6500K), full dimming, exceptional color rendition (CRI ≥93), enhanced weather-resistance (IP-24), and portable battery options, the lightweight Q1000 lets you take creativity to the next level. [00:48]Play
Q-Series
The Q-Series is where you'll find the most powerful point-source lighting fixtures that Fiilex offers. [01:56]Play
Pro-Tip: Hue Control
Hue Control is the perfect tool for getting your skin tones just right. Save hours of hassle in color correction with the twist of a dial! [00:32]Play
Separator
PHOTOMETRIC DATA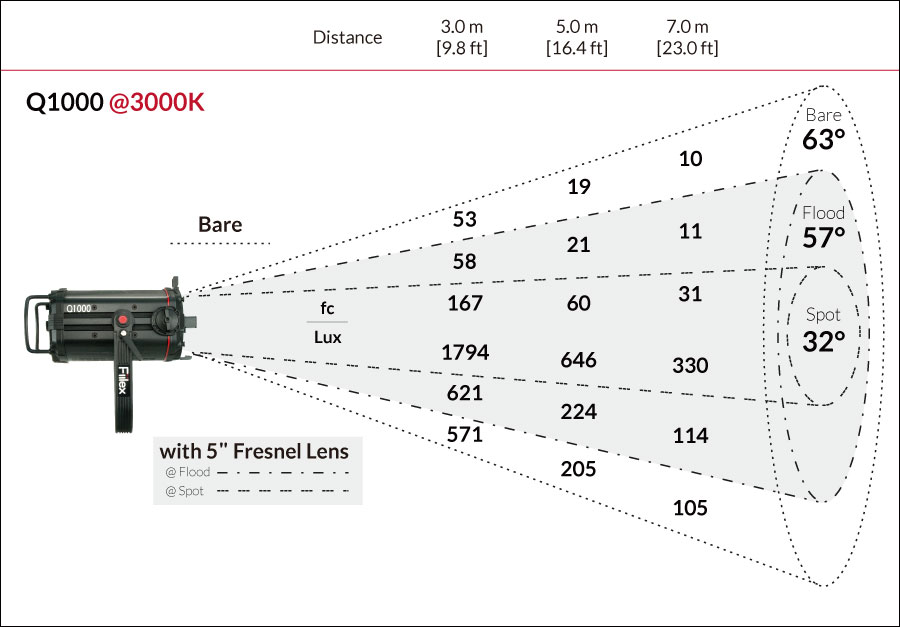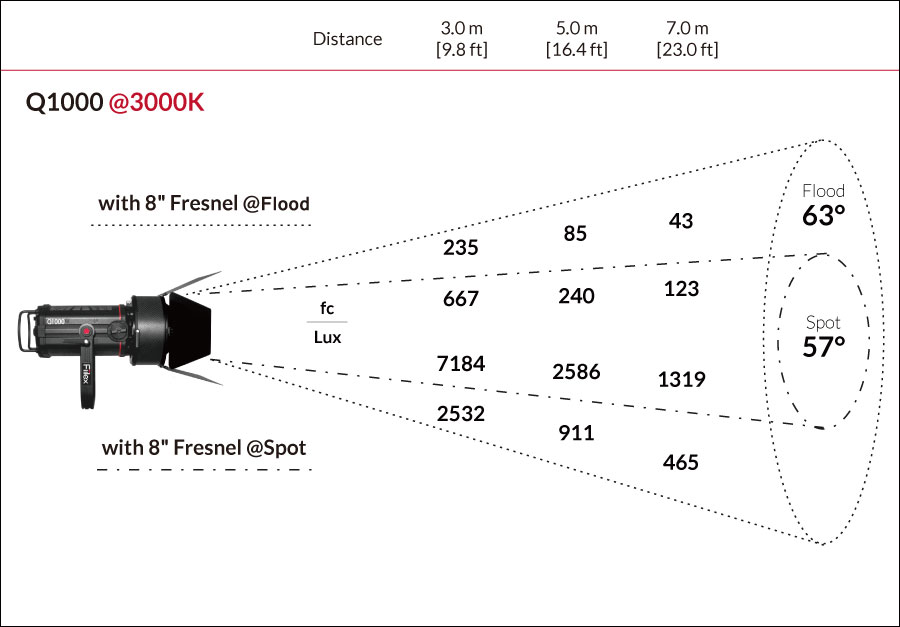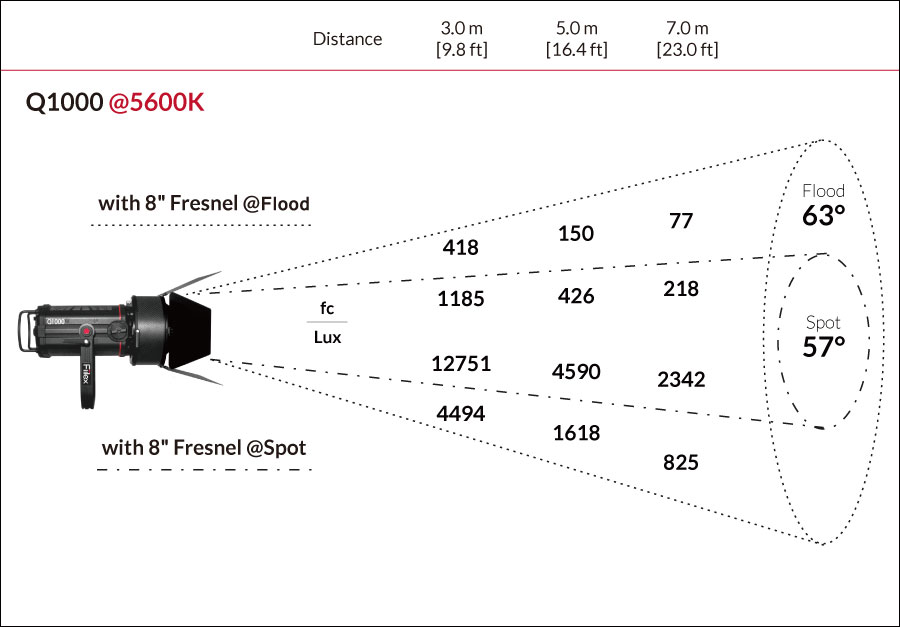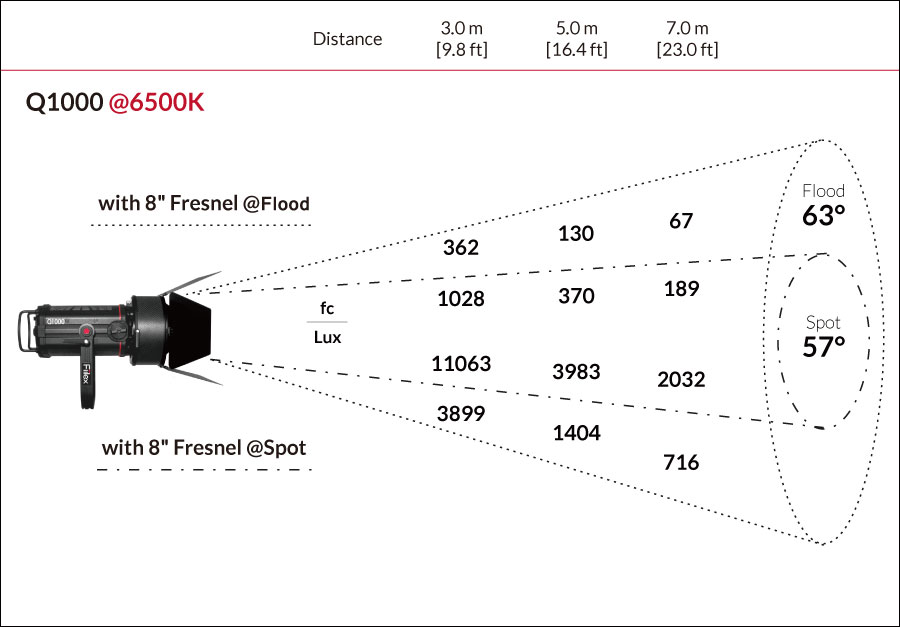 Separator
Items Included
(1) Q1000-DC Light Head
(1) Size III Barndoor
(1) 5-Inch Fresnel Lens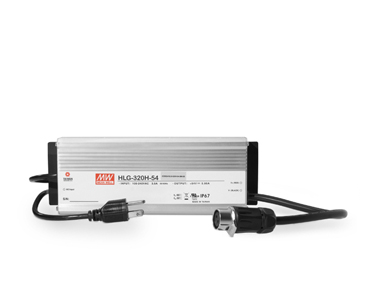 (1) Power Adapter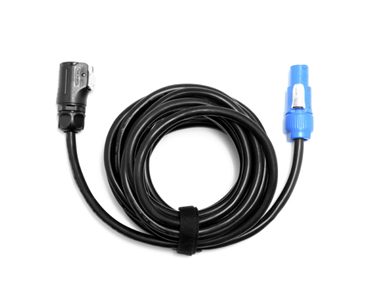 (1) 20' PowerCon Cable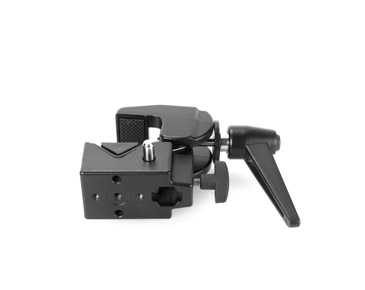 (1) Clamp Mount
(1) Cord Tie
Separator
Compatible Accessories
Separator
Kits Containing Q1000-DC