Q8 Junior (P/N: FLXQ8JR)
Discontinued
Junior Cinematic LED Light
Overview

Specifications & Downloads

Photometric & Spectral Data

Accessories
The Fiilex Q8 Junior is a 170W tunable LED Fresnel with best-in-class optical performance. Its precisely designed 8" Fresnel lens produces a smooth light field at all beam angles (12-50°).

The Q8 Junior includes three other key features that address the needs of many film and video productions. First, the tunable CCT and hue enable the Q8's output to blend seamlessly with existing lighting. Second, the robust construction ensures that the Q8 can withstand rough transportation and rigging conditions. Third, the intuitive LCD display and manual control knobs allow filmmakers to make quick adjustments on set.

With a built-in power supply and a weight of 15 pounds, the Fiilex Q8 Junior is a great LED fixture both for on-location lighting setups and permanent studio installations.
FEATURES
170W power draw
Focus/flood range of 12-50°
Dimming down to 0%
Flicker free at any frame rate
AC input power
Tunable CCT (2800-6500K)
Hue control (±0.25 green/magenta)
High CRI at any color temperature
Broadband full-spectrum LED source
Designed in USA. Assembled in USA/Taiwan
Separator
ITEMS INCLUDED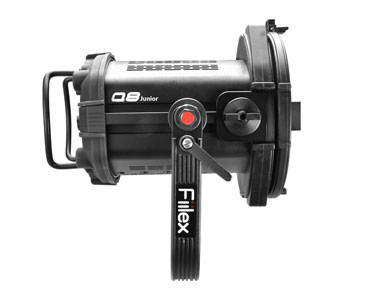 (1) Q8 Junior Light Head
(1) 5' PowerCon Cable
SPECIFICATIONS
Fresnel Size
8"
Beam Angle
12°-50°
CCT Range
2800-6500K Continuous Tuning
Hue Control
±0.25 Green/Magenta
CRI
94 Typical.
Dimming
100% - 0%(Cut off @ 0.2%)
LED
(One) 150W DiCon Dense Matrix LED
Input Power
120V-240VAC
Power Consumption
170W Max
Power Adapter
Input: 100-240 VAC, 50~60Hz
Power Port
Power Con
DMX Port
Two XLR-5P Ports and Two RJ45 Ports
(3 Channels: Dimming, CCT, & Hue)
USB 5V
No
Weight
Fixture: 14.94lb / 6.78kg (Includes Yoke)
Size
L 12.12" x W 12.25" x H 16.44"
L 308mm x W 311mm x H 418mm
Mount Type
Baby Stud 5/8" Female (16mm) and
Junior Stud 1-1/8" Male (28mm)
IP Rating
IP-20
Thermal Design
Advanced Vapor Cooling System (Fan Cooled)
Operating Temperature
32-104ºF / 0-40º C
Separator
DOWNLOADS
PHOTOMETRIC DATA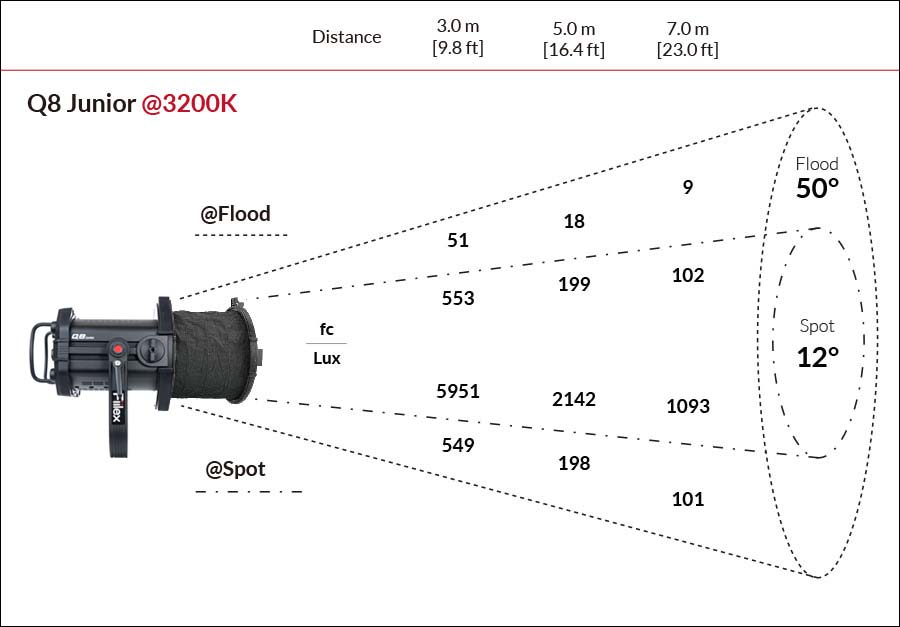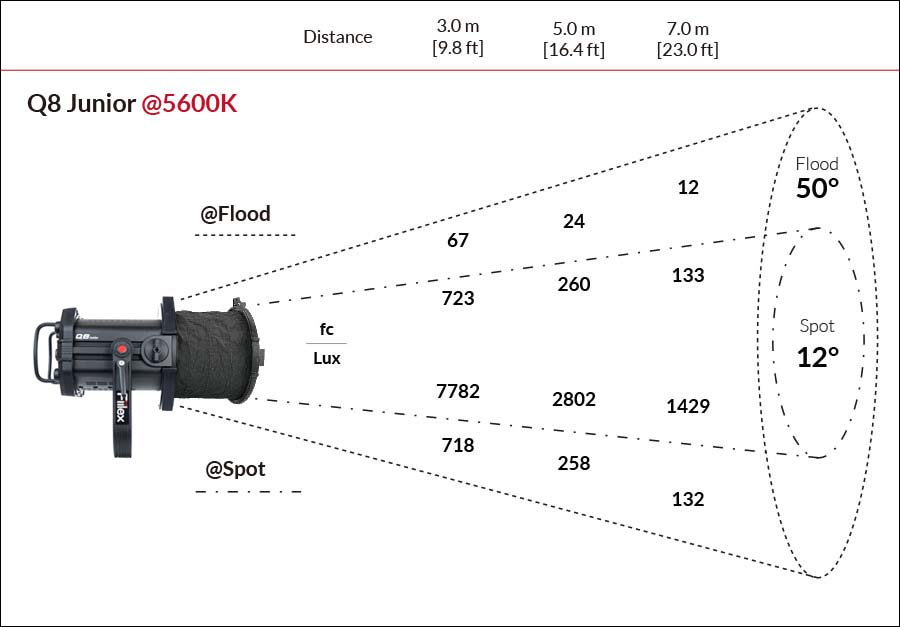 Separator
BEAM PROFILE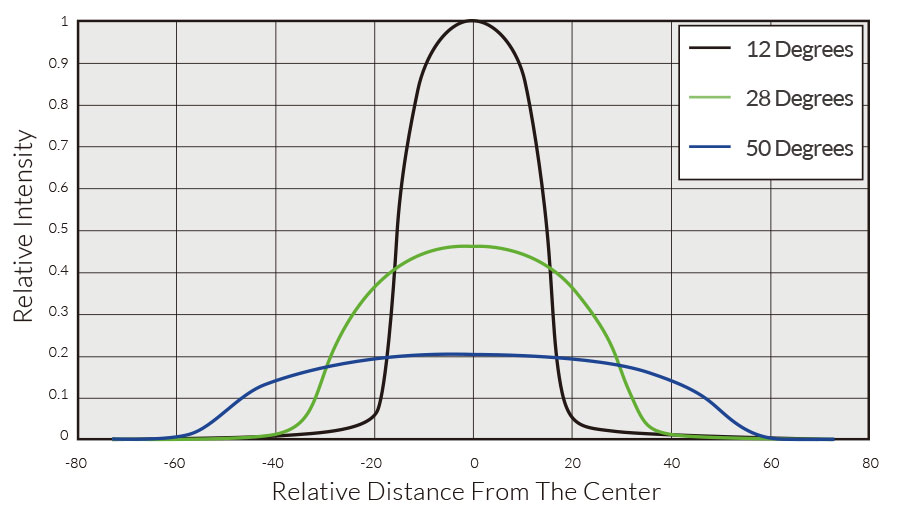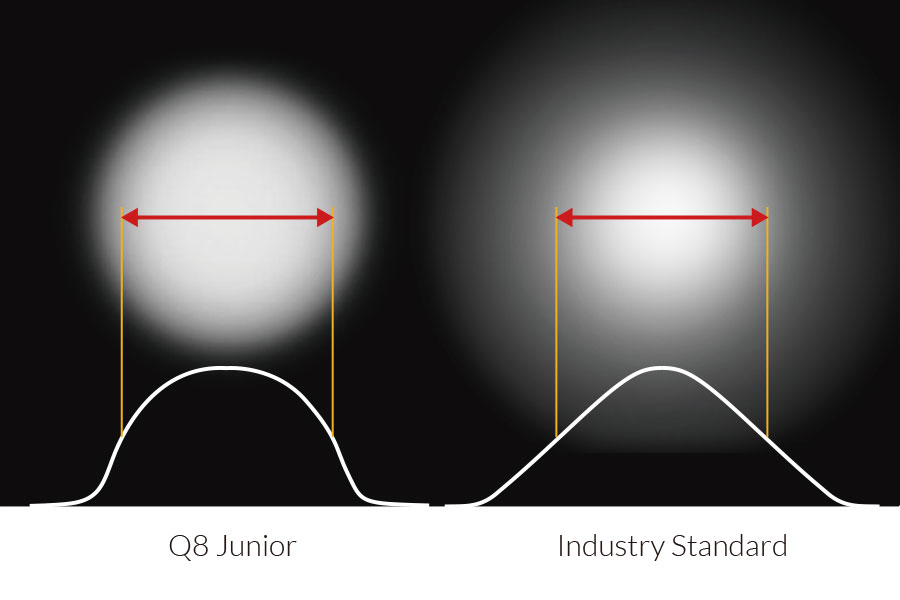 Separator
SPECTRAL DATA

CRI
Measurement
R1
R2
R3
R4
R5
R6
R7
R8
R9
3200K
99
98
94
98
97
96
98
98
91
5600K
97
98
97
89
94
96
92
91
80
CRI
Measurement
R10
R11
R12
R13
R14
R15
CRI
Ra
CRI
Extended
TLCI
Results
3200K
90
96
83
99
95
98
97
95
96
5600K
93
89
78
98
99
94
94
92
94