Discontinued
With the Matrix light, Fiilex creates a light quality traditionally only achievable through the use of much larger and more cumbersome fresnels. The Matrix leverages Fiilex's Dense-Matrix technology by fusing multiple sources into a single fixture. The result is a crisp, directional light with a large homogeneous field of light and a smooth shadow transition. This versatile and powerful fixture also works well bounced through scrims, or off walls and ceilings to create large area washes. Engineered with modularity in mind, the 1500W-equivalent Matrix works excellently on its own or grouped in an array of multiple lights.

The Matrix is built to easily accommodate various light-shaping accessories. To further soften its output, there's the specially-designed Matrix Softbox. This unique softbox circumvents the speed ring by attaching directly to the Matrix fixture via rod mounts. An optional speed ring accessory is available if rotational control of the softbox is necessary. Alternatively, users looking for a greater punch can focus in the light with the Matrix Fresnel Lens, which clips simply into place, tripling intensity.

The Matrix also features Fiilex's professional-grade tuning options, with wide-gamut continuous CCT from 2800 to 6500K, as well as hue control. Unique to Fiilex is the advanced intelligence of their custom-LED design. For the Matrix this means smooth transitioning and consistent light quality across all power levels. This light quality is maintained even when hue adjustments are applied at low power levels, where fixtures from other manufacturers fail.

Using a process akin to the mapping of CCD and CMOS sensors in high end cameras, Fiilex creates custom lighting profiles for every one of its fixtures. The process identifies the characteristics of each LED in the array, notes any variances, and then applies a calibrated map specific to the component. The result is consistency of light quality as well as output level in every unit produced across the Fiilex line.

With the Matrix, Fiilex users can complement their single source Q and P series lights with the gorgeous, broad throw of a uniquely versatile top-tier fixture.
Separator
FEATURES
1500W Tungsten Output Equivalent, 320W Power Draw
Built-In Softbox Mount (Speed Ring not required)
Tunable CCT (2800 - 6500K)
Fully Dimmable
IP-24 Rating (Water-Resistant)
High CRI (≥93)
Multiple Dense Matrix LED Light Sources
LCD Display
Flicker Free at any frame rate
Broadband Full Spectrum LED Source
DMX (512 channels)
Generates Minimal Heat
Custom Travel Case Available
Does not emit UV light / radiation
Designed in USA, Assembled in Taiwan
Separator
SPECTRAL DATA

CRI
Measurement
R1
R2
R3
R4
R5
R6
R7
R8
R9
3000K
98
99
92
98
99
97
98
97
93
5600K
97
99
98
92
95
96
95
94
86
6500K
97
98
97
91
94
96
94
94
87
CRI
Measurement
R10
R11
R12
R13
R14
R15
CRI
Ra
CRI
Extended
TLCI
Results
3000K
91
97
86
99
94
96
97
96
97
5600K
94
93
81
98
99
96
96
94
94
6500K
94
91
80
98
99
95
95
94
94
Separator
SPECIFICATIONS
Size
L 6.7″ x W 11.6″ x H 16.5″ (with Yoke)
171mm x 294mm x 418mm (with Yoke)
L 6.7″ x W 8.7″ x H 8.7″ (without Yoke)
171mm x 220mm x 220mm (without Yoke)
Weight (Include Yoke)
9.5 lbs / 4.3kg
Weight (Power Ballast)
5.1 lbs / 2.3kg
IP Rating
IP Rating of 24 (Water-Resistant)
LED
4x Dense Matrix LED
Thermal Design
Advanced Vapor Cooling System
Beam Angle
96°
30° with Matrix Fresnel Lens (Not Included)
CCT Range
2800-6500K Continuous Tuning
Hue Control
+/- 0.25 Magenta/Green
CRI
≥93
LED Life
42,000 hrs
Power Consumption
320W Max AC/ 300W Max DC
Comparable in Output to 1500W Tungsten
Input Voltage
AC Power: 100-240 VAC, 50~60Hz, Max 340W AC
DC Power 45-54V, Max 300W
Input Port
Detachable Power Con Cable
DMX Control
2 XLR ports(512 Addresses)
Temperature Range
32-104ºF / 0-40º C (Over Temperature Protection)
Mount Style
Baby Stud 5/8" Female (16mm) and
Junior Stud 1-1/8" Male (28mm)
Barndoor Mount Size
Barndoor size IV
Separator
SHOWCASE
Fiilex Unveils The Matrix
The new Matrix marks Fiilex's first foray into "panel-style" LED lighting. With our exclusive Dense-Matrix technology, we have been able to create a powerful and versatile fixture that is unlike any other panel LED on the market; one that is sure to become an indispensable tool for media production at every level. [00:49]Play
Pro-Tip: Hue Control
Hue Control is the perfect tool for getting your skin tones just right. Save hours of hassle in color correction with the twist of a dial! [00:32]Play
Separator
PHOTOMETRIC DATA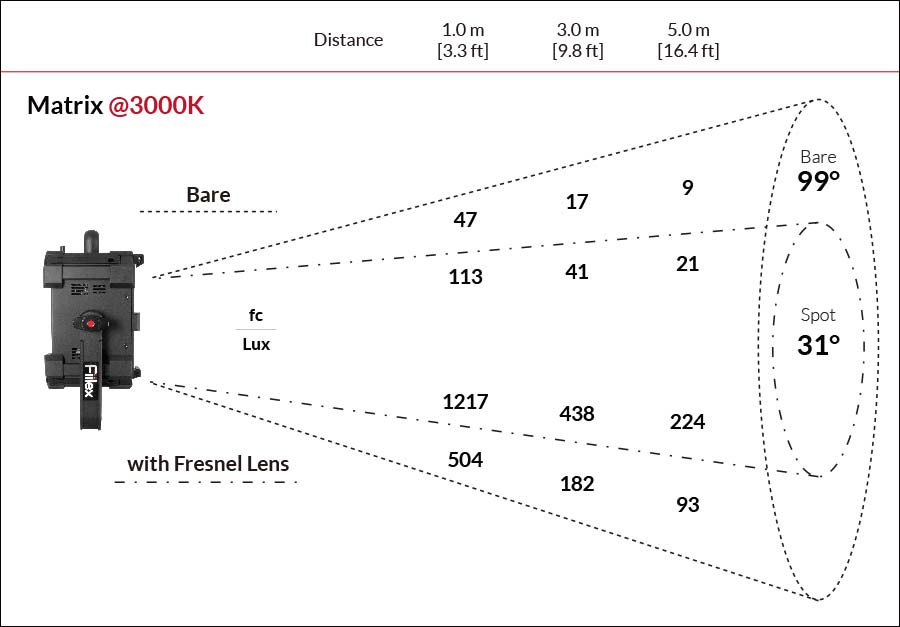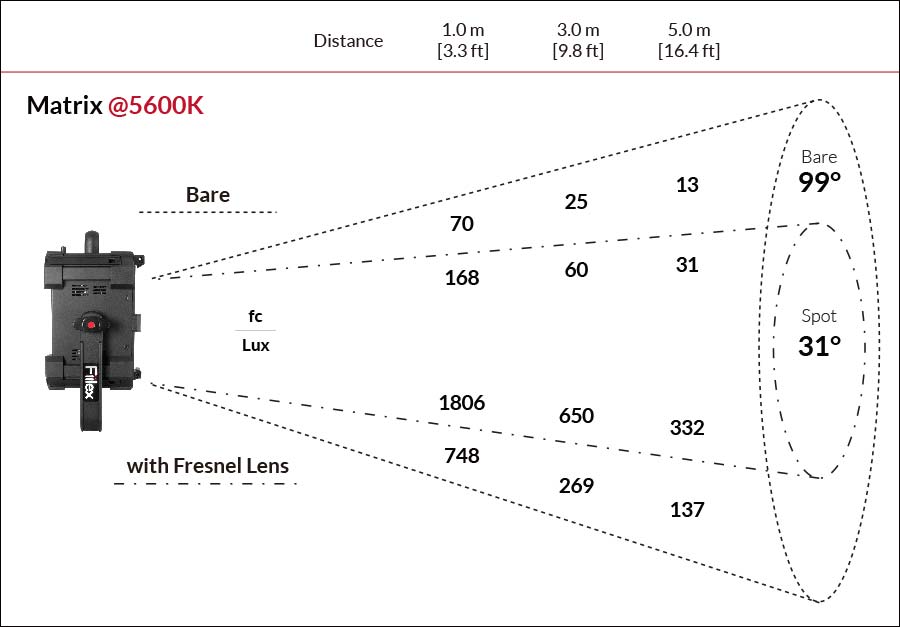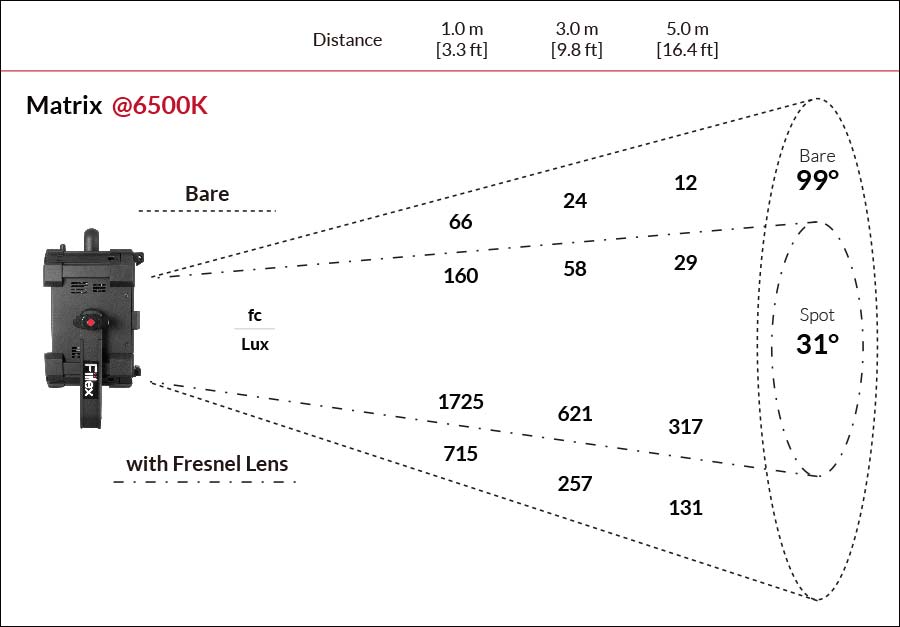 Separator
Items Included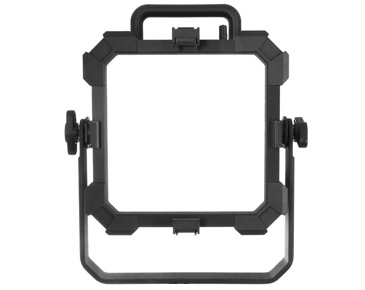 (1) Matrix Light Head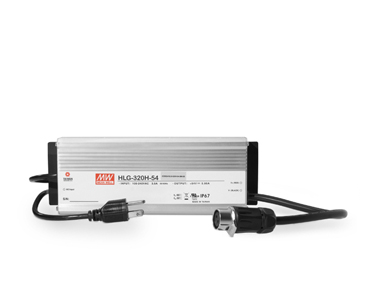 (1) Power Adapter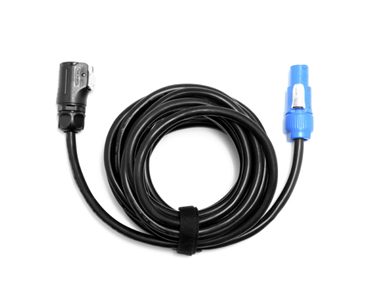 (1) 20' PowerCon Cable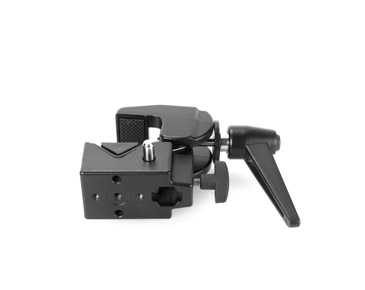 (1) Clamp Mount
Separator
Compatible Accessories
Separator
Kits Containing Matrix