V360 (P/N: FLXV360P)
V360
Versatile Viewing Lamp
As seen in the Journal of the American Institute of Conservation
Overview

Specifications & Downloads

Video & Gallery

Photometric & Spectral Data

Accessories
The V360 is an extremely versatile LED task lamp designed for professionals who require color-critical illumination.

The V360 draws 90W of power to produce LED output greater than a traditional 300W bulb. Its color temperature can be adjusted from 2800-6500K, which covers the standard D65 (6500K), D50 (5000K), Middle Warm (4000K), and Warm (3000K) settings. The color rendering is carefully calibrated at all settings, giving the light an average CRI of 96. The fixture is also dimmable from 100-0%, with accurate light quality maintained throughout the intensity range.

The V360's custom-balanced extension arm and carefully engineered ergonomics allow the light head to be precisely positioned for maximum utility. When extended the arm can reach over three feet in any direction.

Fiilex also offers a variety of optional V360 accessories. These include magnetic light shapers to modify the V360's output and a base adapter for easy mounting on rolling light stands.
FEATURES
2800 - 6500K continuous CCT tuning
300W tungsten output (90W draw)
High CRI values at every color temperature
Does not emit UV light/radiation
Dims to 0% without flicker or color shift
Precise color calibration for consistent quality
OLED display for monitoring settings
Quiet and cool to the touch
Water and dust resistant (IP-24)
Ergonomically designed
Versatile mounting
Optional light modifiers available
Separator
ITEMS INCLUDED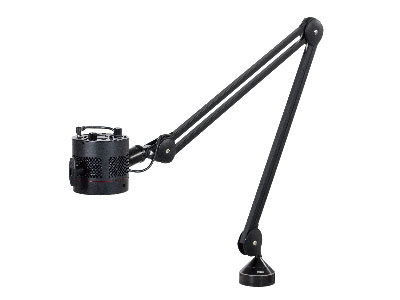 (1) V360 Light Head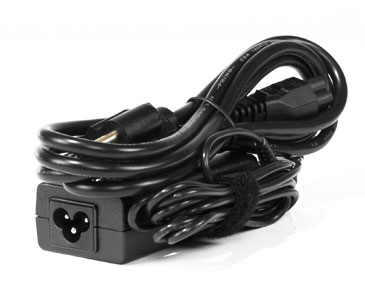 (1) 90W AC/DC Power Adapter
SPECIFICATIONS
Beam Angle
60° (33° with 2" Fresnel)
CCT Range
2800-6500K Continuous Tuning
CRI
96 Typical
Dimming
100% - 0% Flicker Free
LED
Dense Matrix LED
Power Draw
90W Max
Input Power
12-30V DC
Power Adapter
100-240V AC, 50~60Hz
DMX Control
2-CH (Intensity, CCT) via TRRS Ports
Display Type
OLED
Weight
7.5lb / 3.4kg
Light Size (L x W x H)
5.5in x 4.0in x 4.7in / 14.0cm x 10.2cm x 12.0cm
Arm Size
Fully Extended: 36.2in / 91.9cm
Base: W3.2in x H7.6in / W8.1cm x H19.3cm
Mount Style
Table Mount (0 - 2.8in Gap)
Base Adapter (Fits Baby 5/8". & Junior 1-1/8". Studs)
Thermal Design
Advanced Vapor Cooling System (Fan Cooled)
Acoustic Noise
22.7dB (Professional Recording Studio Level)
Operating Temperature
32-104º F / 0-40º C
Separator
DOWNLOADS
VIDEOS
V360 Viewing Lamp
The V360 is an extremely versatile LED viewing lamp designed for professionals who require color-critical illumination. [02:14]Play
PHOTOMETRIC DATA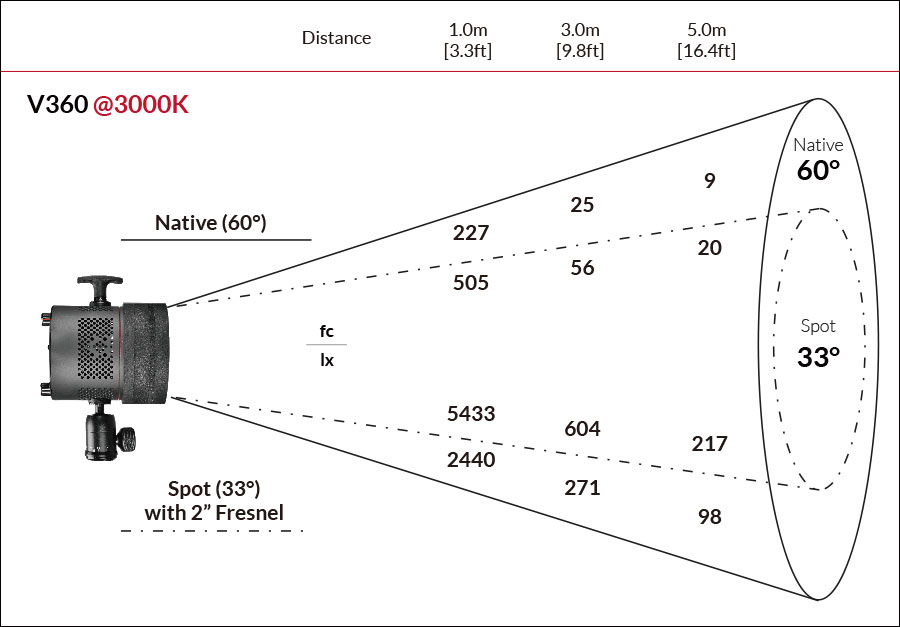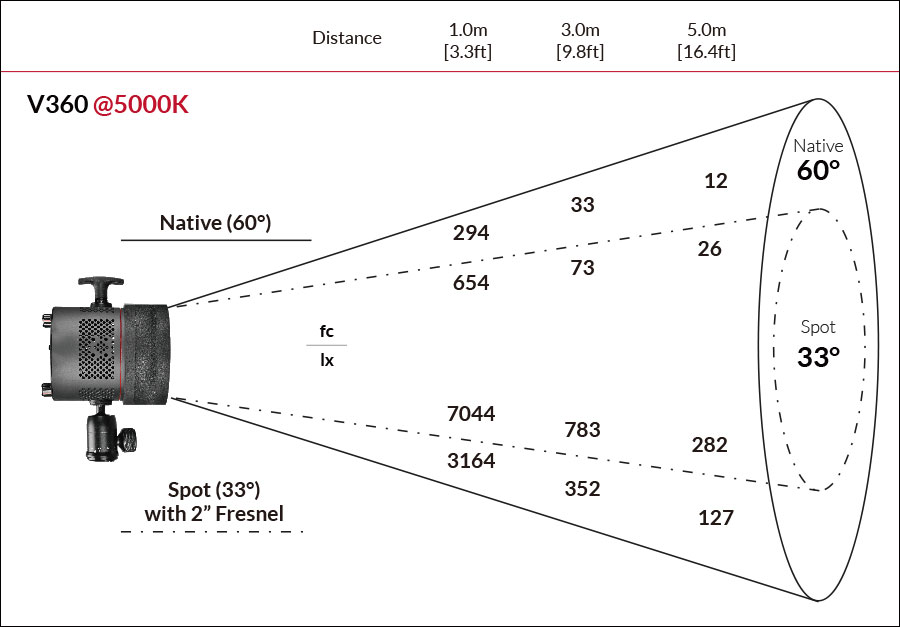 Separator
SPECTRAL DATA

CRI
Measurement
R1
R2
R3
R4
R5
R6
R7
R8
R9
3000K
99
99
95
98
98
97
98
97
93
5000K
98
99
98
95
96
96
97
96
93
6500K
97
98
98
94
95
96
96
95
89
CRI
Measurement
R10
R11
R12
R13
R14
R15
CRI
Ra
CRI
Extended
TLCI
Results
3000K
95
98
86
99
96
98
98
96
97
5000K
96
96
85
99
98
97
97
96
98
6500K
95
95
84
98
99
96
96
95
97
*Values in this table are typical.
**CRI Ra is the averaged result of R1 to R8, CRI Extended is the averaged value of R1 to R15.